Neymar Jr. scored the first Barcelona on season 2015/2016
The return of Barcelona to the field began with an important victory to continue the good work of the culé team. With the score 3 to 0 against Roma, striker Neymar Jr. was the one who started what barça are used to doing on the field. After Mathieu assistance, the number 11 shirt scored the 1st goal of the season and the match.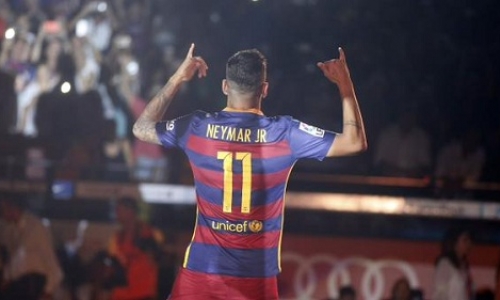 Tonight also marked the 3rd time the striker played in the Joan Gamper Trophy and was crowned to the end of the match with the victory. A fact that came with the first game that Neymar Jr. played against the team from Rome.
Fazendo gol aos 25 minutos do 1º tempo, o atacante deu continuidade na sua boa fase de artilheiro que contando com a partida de hoje completa 12 jogos e 12 gols pelo FC Barcelona (1-1-0-2-1-1-1-1-1-2-0-1). Com este fato, NJR completou três jogos pelo Gamper, tendo três gols e duas assistências.
Scoring the goal only on 25 minutes of the 1st half, the striker continued his good scoring phase that, counting with tonight's game, he completes 12 games and 12 goals for FC Barcelona ( 1-1-0-2-1-1-1- 1-1-2-0-1 ). With this fact, NJR completed three games by Gamper, with three goals and two assists.