Malaga's wall blocks Barcelona and the game ends with a goalless draw
The FC Barcelona tried too much, but couldn't break the wall created by Malaga. The team made a tie by 0-0 at the Camp Nou, this Saturday (19), at the Spanish Championship. The Catalan team's next duel will be outside home, nest Wednesday (23), by the Champions League, against Celtic.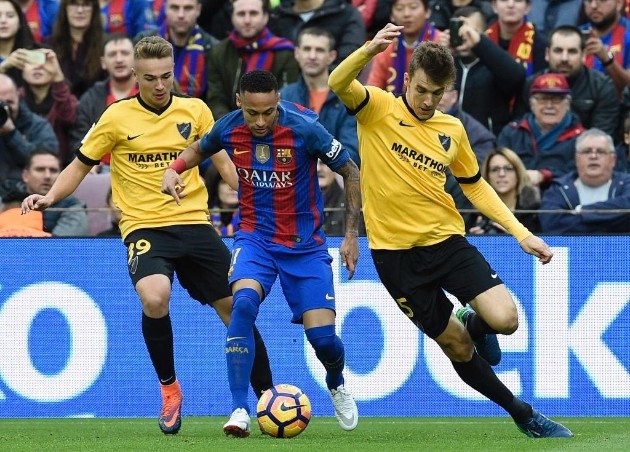 First half –
The FC Barcelona started the match putting total pressure against Malaga. The first goal came out at two minutes, thanks to Paco Alcacer, but the flag was up, eliminating the goal. At eight minutes, Alcacer took a chance in a high ball and launched it to Neymar Jr. The player tried to kick it, but sent it out. The Catalan team got back to their calm Exchange of passes.
With 20 minutes, Barça kicked many times to the goal, but it was not the moment to score yet. At 22, NJr made a wrong pass and gave Mala its first chance. Fortunately, Ter Stegen defended Sandro's kick. The match reached its 30 minutes and, despite great plays, Barcelona didn't score.
With the first half coming to an end, both teams started to Exchange passes in search of space. Barcelona tried, pressured and even got very close to the goal, but after the only extra minute, the first half ended.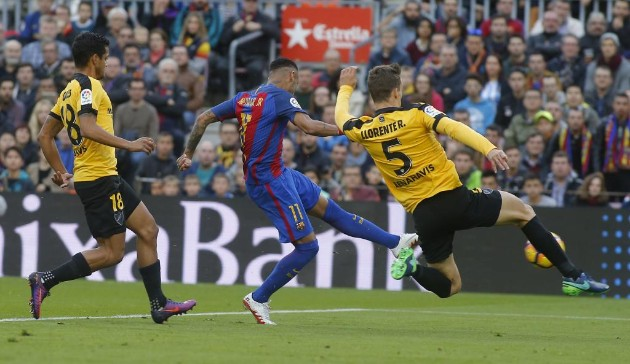 Second half –
By the start of the second half, Barça's intentions was to tear down the wall built by Malaga. At 52, Rafinha launched the ball above the defense and Neymar Jr. tried with his head almost opening the score. Malaga answered right after with a counter attack. Juankar received from Juanpin invaded the area, dribbled Ter Stegen, but missed the shot, calming down the whole Camp Nou.
Barcelona played practicaly inside the adversary area, but the goal did not come out, furstrating the team and the crowd. At 68 minutes, in a good conter strike, Neymar Jr. got heavily knocked down by Llorente. The midfielder received a red card, giving a big advantage to the azulgrena team. The team kept trying to break Malaga's barrier.
At 79, Mascherano launched a good long ball that got right in Piqué's head, but he missed. Barça started to try launching the ball much more after that. The team got too many chances to score and even lost a penalty chance that the referee did not give, not seeing Piqué fall.
The four extra minutes were not enough for Barça. In the team's last chance to score, Neymar Jr. received a launched ball and tried a righteous headbutt to the net. Kameni, stops the player, the Camp Nou goes quiet and the game ends.
Click here to vote for Neymar Jr at FIFA "The Best" Awards #VoteNeymarJr
Photos: AFP and FRANCESC ADELANTADO