Barcelona makes five and defeats Leganés
With the second rout of the week, the FC Barcelona defeats Leganés by 5-1 and conquers a victory in la Liga's fourth round. Two goals from Messi, one from Suárez, another from Neymar Jr. and a beautiful one from Rafinha. The team's next challeng will be Atletico Madrid, next Wednesday (21), at the Camp Nou.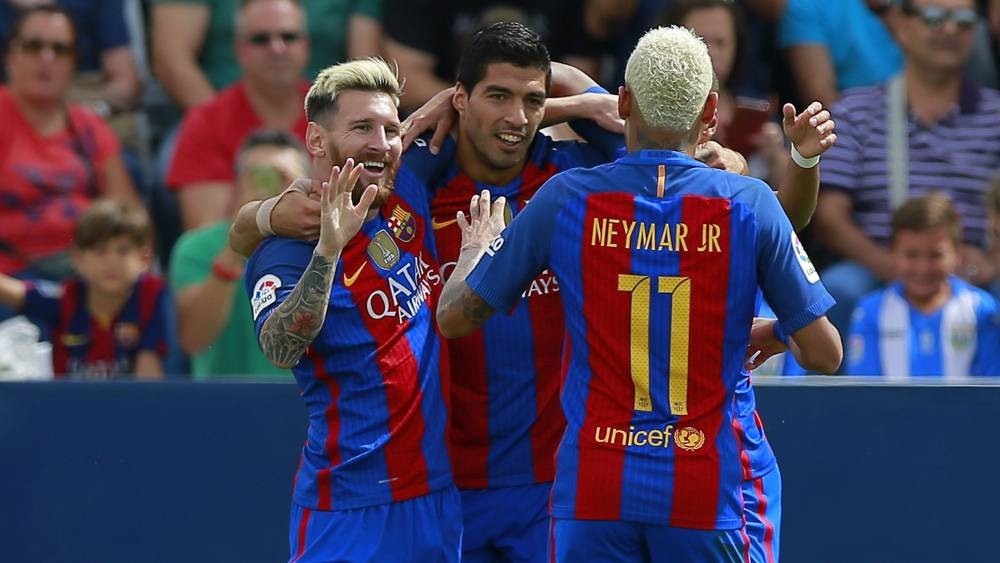 First half –
Leganés didn't want to let Barça leave its area during the first five minutes, pressuring the Catalan team. The MSN Trio only got to the adversary area by nine minutes, but didn't cause danger. But, by 15 minutes, the adversary's pressure trembled. In a counter attack, Luis Suárez ran to make a pass for Messi to open the score.
By 19 minutes, Rafinha took the ball on the right and made the pass for Suárez to launch it. In the area, Neymar Jr. tried an incredible kick, but kicked it badly and sent it out. Barcelona got closer to the enemy area more and more. They got so close, that the second goal came out. This time NJr found Messi in the center, who just had to make the pass for Suárez to complete, by 30 minutes.
The first half got closer to the end and Leganés got back at pressuring Barça, but the defense created a wall. And to leave no member of Barcelona's lethal Trident hungry, Messi used his skills to make the pass for Suárez who, face to face with the goalkeeper, decided to give the ball for Neymar Jr. to score and close the first half –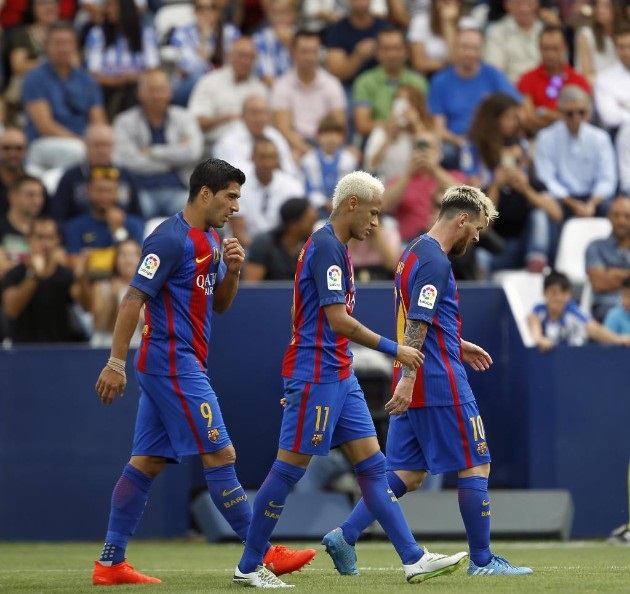 Second half –
Leganés started the second half just as the first one: Not leaving the adversarya area. But, once again, that didn't go well. After a great pass from Suárez to Neymar Jr., the number 11 got knocked down in the area, getting a penalty for Barça. By 54 minutes, Messi kicked well and makes the fourth.
And Barcelona wanted to make the rout even bigger. By 64, Rafinha received in the right, cleaned his defenders and kicked it, scoring na amazing goal and making the fifth of the team in the adversary's home. With Suárez and Iniesta substituted, the game lost rhythm, but the Catalan team kept seeking good chances for more goals.
By 80 minutes, the goal from the house owner finally came. In a free-kick, Gabriel scored a beautiful goal for Leganés. After the goal, Leganés seemed to try to grow in the pitch, but Barça didn't allow it.
After two extra minutes and no more goals, the referee whistles and the fourth round of La Liga comes to an end for Barcelona.
Click here and visit the Institute Neymar Jr
Photos: as.com, Ángel Rivero e Reuters