Barcelona initiates the season winning the Joan Gamper Trophy against Roma
FC Barcelona won the Joan Gamper Trophy, for the 38th time in its history, this Wednesday (05) night. The game against Roma marked the start of the season and the culé fans were able to meet the team that will battle for the titles throughout the next few months. With a victory of 3 to 0 against the Italians, Neymar Jr, opened the scoring, followed by Messi and Rakitic.


The next Barcelona clash happens before Sevilla, in the only game valid for the European Super Cup on Tuesday (11), at 15h45 (Brazilian time), at Camp Nou. The match marks the meeting, respectively, of the Champions League champion and the European champion last season.
The Game:
The season 2015/2016 began with the right foot for Barcelona. With good opportunities to open the scoring in the first half, the team opened up at the Camp Nou and had the brightness of their striking chances. With only 25 minutes, the owner of the 1st goal was Neymar Jr.
Messi launched for Mathieu , who now occupied the left side , and the assistance fell over on Neymar Jr.'s feet. The number 11 shirt received inside the penalty area, dribbled the goalkeeper and turned and completed with the kick, scoring the goal, making Barcelona 1-0.
Dominating the game and trying not to give in to Roma's strikes, Barcelona didn't take long to get to their second goal. With the 'Trident' sharped since the start of the season, the exchange of passes worked just fine for Messi to make the second goal. Suárez and Dani Alves exchanged passes until the place found it's place with Neymar Jr. The player passed to Mess that made a low kick through Szczesny. Barcelona 2 to 0 and the match had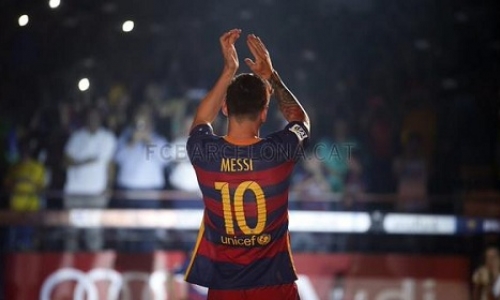 Returning to changes in Barcelona. With advantage on the scoreboard and with today's game as an opportunity to present the cast for the season, Luis Enrique has changed more than half of the team using the available roster available. Who also brought changes in the formation of the team was Roma.
Who did not leave the field was Rakitic. The midfielder was the owner of a great goal in the middle of the field. With a right foot shot he hit the angle with no chance for goalkeeper and extended the advantage to 3-0 for Barca. The following minutes showcased no danger from Roma and the victory went to the hosts.