Barcelona beats Athletic Bilbao by 2-1 in the Copa del Rey
Barcelona moves forward once again in the Copa del Rey, conquering another victory. Without Messi and Suárez, Neymar Jr. helped the team to beat Athletic Bilbao in San Mamés, by 2-1, with a goal from him and the other from Munir. The team's next challenge will be this Saturday (23), against Málaga, in the Spanish Championship.
First half -
Boos in the field. Barcelona was booed by the fans of Athletic Bilbao in San Mamés at the beginning of the first half. The owner of the house marked the blaugrana team, locking their moves. After 15 minutes, Neymar Jr., this time playing without his companions from the MSN trio, risked a shot from outside the area, but Herrerín defended.
18 minutes into the game, Barcelona moved from the right, until the ball landed at Arda Turan's feet. He makes the pass to Rakitic, who finds Munir and crosses for the striker to open the score.
Wanting to take over the field, Barcelona was betting on passes. After 25 minutes, Iniesta met Munir, who gave a slight move to the middle. The number 11 got rid of marking, the goalkeeper and calmly scored the second for the culé group.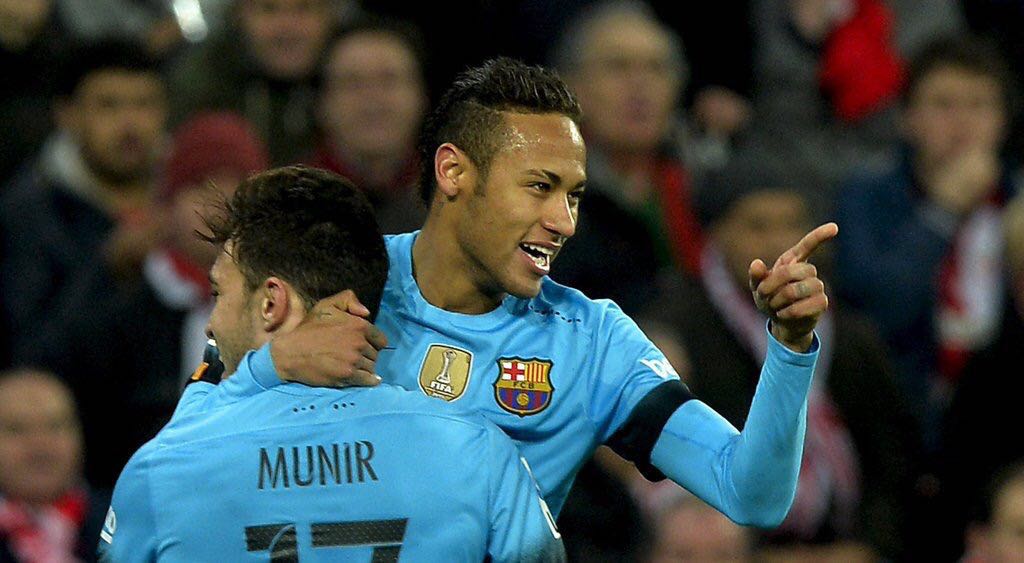 After the goal, the match was fought over and the game drew to a close at a slower pace. After 39 minutes, the Eraso scared Barcelona with a shot from outside the area, but the ball got out. At 45 minutes, with a well-balanced game, the first half was over.
Second time -
The second half had a rough start for both teams. After three minutes, Eraso dribbles Piqué and kicks into the goal, but the ball goes out. None of the teams found plenty of room in the field and this prevented the submissions of both sides.
During the first 20 minutes the players' chances sought passes tand marking flaws to find a goal, but without many positive results. Neymar Jr. found himself extremely marked in the match, which hindered most of his moves. At 37, after much silence on the field, Sabin Merino deflects the ball into a corner, but Ter Stegen saves Barça from taking a goal in the game. Yet.
Near the end of the second half, Barça became more defensive, while the Athletic tried to push but could not score. At 44, Athletic got what he wanted. San Jose found Aduriz in the area and made the pass. The attacker shoots straight away and marks for the team. No more emotions. The score ended by 2-1 to Barça at Copa del Rey.