Real Sociedad knocks Barcelona down by 1-0
And the FC Barcelona loses once again at Anoeta. The team could not tear down the wall built by Real Sociedad, this Saturday, at San Sebastián and got defeated by 1-0. Now the team returns to Champions League, for the second match against Athletic Madrid, this Wednesday (9).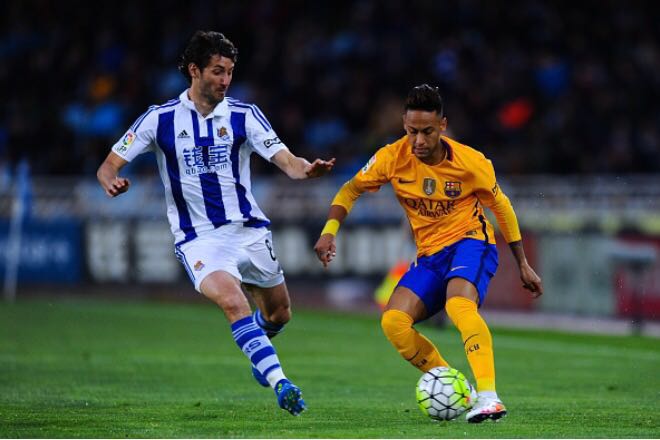 First half –
Things did not start very well for Barça. Soon by four minutes, after raising the ball on the Catalan área, Oyarzabal hit with his head and open the scoring. During the first 20 minutes, Barcelona sought a draw by all means, but did not find space on the adversary's area.
Neymar Jr. and Messi even generated some good plays on the pitch, but they could not make it. By 33 minutes, on the best azulgrana chance of the game, Lionel made a great pass to Njr, who sent it to Turan. The player made a Strong kick, but Rulli, well positioned, defended the goal.
Without any chances for Barcelona to score, the Real Sociedad knocked the team down on the first half, that ended by 1-0, at San Sebastián.
Second half –
Pressure from Barça on the first 10 minutes. By 10, Iniesta, blocked by the defenders, risked a kick from outside the área that almost shook the net, but the ball went out. Real Sociedad's defence seemed like a wall, stopping the catalan's player's chances.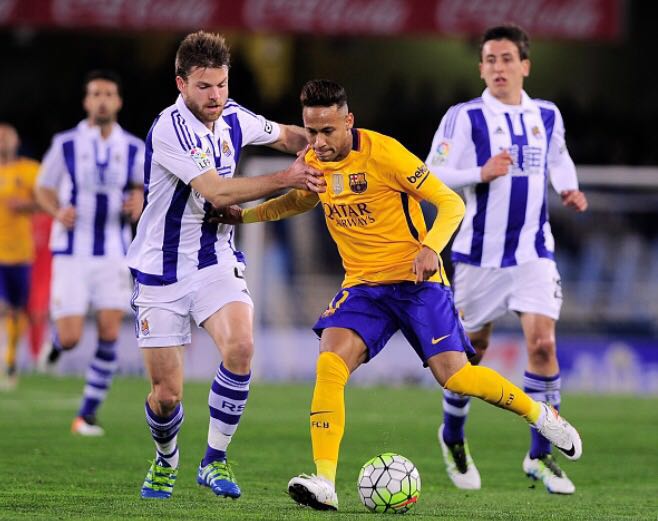 By 17 minutes, Neymar Jr. got knoecked down on the área. On the free kick, the number 11 does it well, but the ball goes out, scratching on the goalkeeper's fingers. Rulli were almost a wall on the pitch. Piqué got the ball on the área, passed it to Messi, who, face to face with the goalkeeper, kicked, but the chance was blocked.
Time was going fast and Barcelona was not scoring. The team did bet on the exchange of passes to try and open a space on the enemy's defenses. But they did not find any. Despite Barça's ball possession and some good chances, it wasn't Barça's day and they lost the game by 1-0.