Neymar Jr. returns for Joan Gamper Trophy's 50ª edition
Tomorrow Neymar Jr. will be back on the fields, along with Barcelona. After his well deserved vacations, the player is back to play a match against Roma, for Joan Gamper Trophys 50ª edition. The game will happen this Wednesday(05), at 17h (Brazilian time), at the return of the team to Camp Nou.
After a glorious season that crowded Barça with the Treble, the team will go through a friendly game that will also be their resubmission with the fans, at home. Today, at morning, the coach Luis Enrique brought all of his players for training, being that, the last training session before the match against Roma.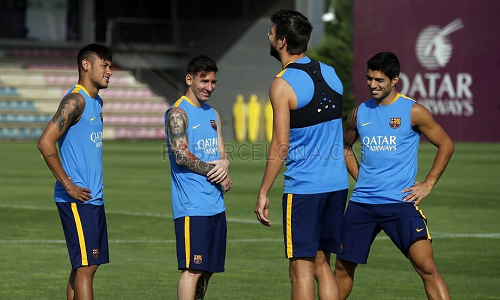 Luis Enrique said himself anxious for tomorrow's game. "Each time that game comes we manage to meet our fans again, right at the start of the season. And it's always something special. I hope this turns out to be a football party and a big game against a great opponent".
As for Neymar Jr. and Messi's return, the coach commented that "Neymar Jr. and Messi arrived in a very good physical condition and they are aware of what we'll play in one week, but this Wednesday they will be able to play for a couple of minutes". The player never lost a match for the Joan Gamper Trophy and it will be his first time facing Roma.