Neymar Jr. is one goal away from scoring 50 goals for PSG
Neymar Jr. is one goal away from reaching 50 goals scored with the Paris Saint-Germain in 55 games played. His average is of almost one goal per game. Besides swinging the nets, the striker was also present in 23 routs (above three goals per game) of the PSG team over the last two seasons. Without him on the field, there were only five.
The lob he made, that lead into a goal on last weekend's game against Rennes, at the end of the Coupe de France, was the athlete's 49th goal for the French club – His 379th as a professional.
For the PSG, the striker's has a highly positive average: 0,90 per game, therefore, almost a goal per match. Since his debut in August 2017, he played 55 games, with 45 victories, five draws and five defeats.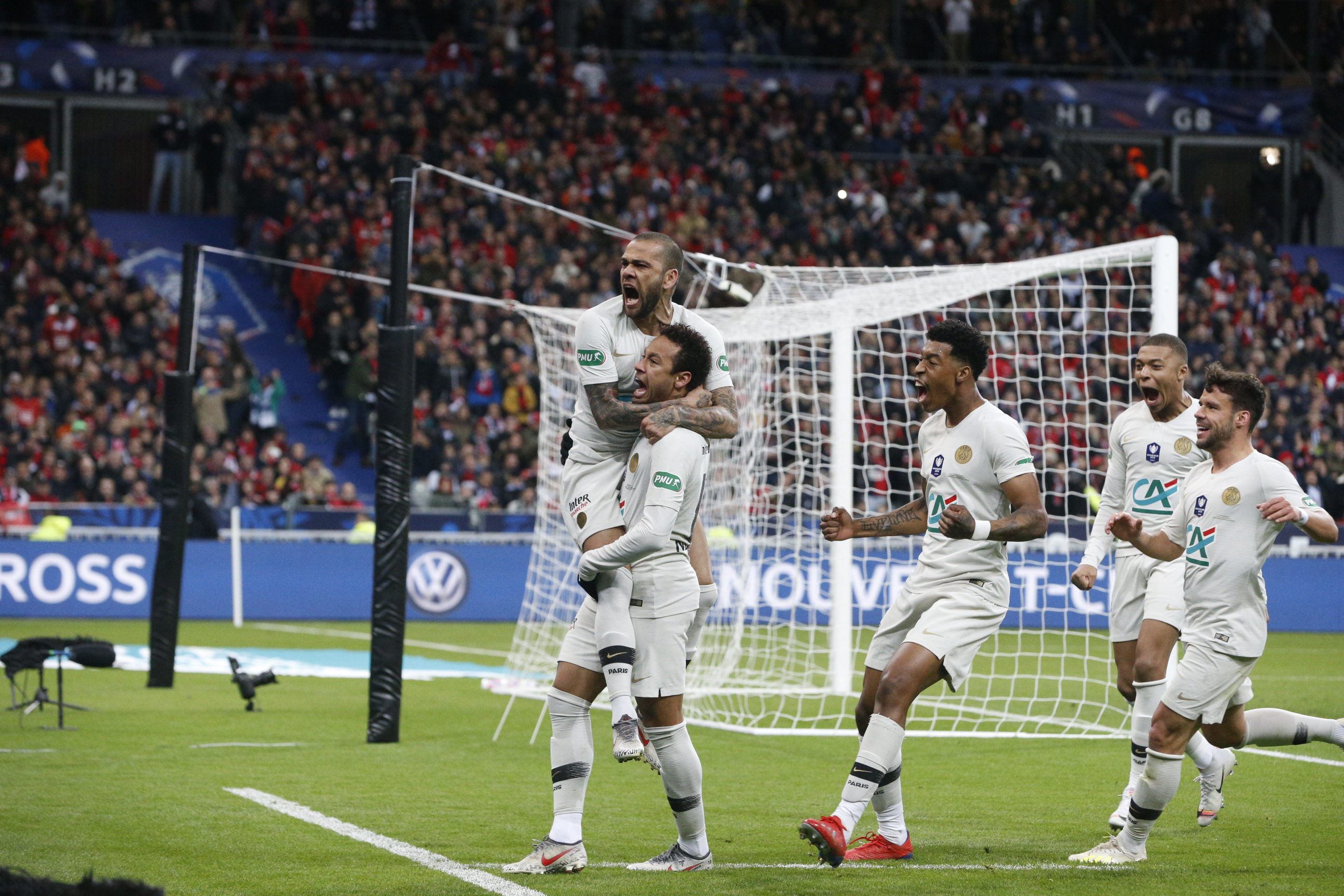 The participation of the number 10 also calls the attention when the subject is Paris' routs – five without Neymar and 23 with Neymar Jr. on the pitch. In one of them, a duel between PSG and Dijon, disputed in January of 2018, Neymar Jr. scored four victory goals of Paris' 8-0 victory. As for the duel against Red Star Belgrade, on Champions League's group stage of last year, he scored three goals on their 6-1 victory.
The number 10's responsibility doesn't stop out there. Neymar Jr. is also the highlight when it comes to assists: 27 passes to goals adding the 2017/2018 and 2018/2019 seasons up to now. The ones who most benefited from that are the Uruguayan Cavani (10 goals) and the French Mbappé (8 goals).
> 2 PSG hits after Neymar Jr injury on 25/2
10/3/2018
Paris 5x0 Metz
15/04/2018
Paris 7x1 Mônaco
> 13 PSG with Neymar Jr in pitch (over 3 goals)
20/08/2017
Paris 6x2 Toulouse
8/09/2017
Metz 1x5 Paris
12/09/2017
Celtic 0x5 Paris
30/09/2017
Paris 6x2 Bordeaux
18/10/2017
Anderlecht 0x4 Paris
31/10/2017
Paris 5x0 Anderlecht
18/11/2017
Paris 4x1 Nantes
22/11/2017
Paris 7x1 Celtic
16/12/2017
Rennes 1x4 Paris
10/01/2018
Rennes 1x6 Paris
17/01/2018
Paris 8x0 Dijon
27/01/2018
Paris 4x0 Montpellier
17/02/2018
Paris 5x2 Strasbourg
> 3 PSG hits after Neymar Jr injury in January
27/01/2019
Paris 4x1 Rennes
20/02/2019
Paris 5x1 Montpellier
12/03/2019
Dijon 0x4 Paris
> 10 PSG with Neymar Jr in the pitch (more than 3 goals)​
4/08/2018
Paris 4x0 Mônaco
1/09/2018
Nîmes 2x4 Paris
26/09/2018
Paris 4x1 Reims
3/10/2018
Paris 6x1 Estrela Vermelha
7/10/2018
Paris 5x0 Lyon
20/10/2018
Paris 5x0 Amiens
11/11/2018
Mônaco 0x4 Paris
18/12/2018
Estrela Vermelha 1x4 Paris
6/01/2019
GSI 0x4 Paris
19/01/2019
Paris 9x0 Guingamp