Meeting between Neymar Jr and Ronaldo marks the debut of a new frames on the website about 10 year career anniversary
The public call for the first episode of Half-Time, a session inside the special website [www.neymarjr10.com] on the athlete Neymar Jr´s 10-year career anniversary is already available on video. The meeting with Ronaldo Phenomenon debuts the series of interviews between Neymar Jr and a star guest. Between March and December of this year the striker will receive, by surprise, a different person.
From Monday through Friday (5), the platform OTRO (digital fan club with films and interviews of the world´s biggest players), will publish an exclusive video per day of the conversation between Ronaldo and Neymar Jr. A teaser form each meeting can be checked on the special website.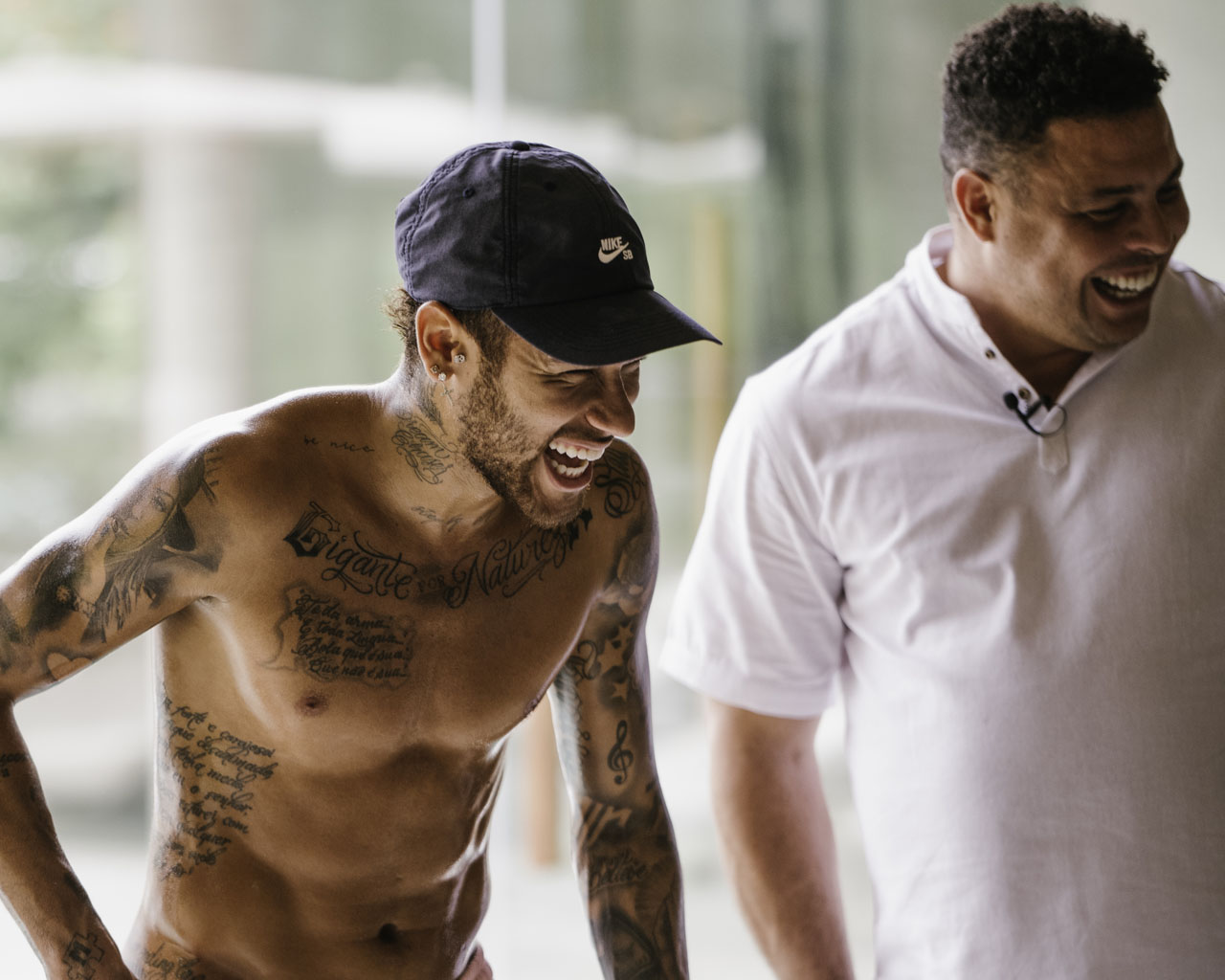 The material features an unplanned chat between fan and idol, and how their football careers have intersected in recent years. One of the highlights was the final game of the 2009 Paulista Championship, a year that Neymar Jr made his debut as a professional player for Santos FC and faced Ronaldo´s Corinthians.
The Brazilian National Team and the injuries suffered by both of them during their career were also the subject matter of the conversation that took place in Mangaratiba, Rio de Janeiro. "Your are goiing to surpass me as a striker in the National team... I'm looking foward to it! Is a matter of time. Go for it and leave me be, with my own number of goals. You are young. You have many things to achieve yet!", talk Ronaldo.
Neymar Jr also revealed that the "cascão" character style haircut adopted by Ronaldo in the 2002 World Cup final against Germany was an inspiration to him at the time.
"I did the same as "the man's" hair. It's in a photo to prove it. I painted it blue because we were playing a final match. My mother approved it. It was those paints that come out in the bath, "joked Neymar Jr., who at the time, was ten years old and played futsal at Gremetal's Santos school on the coast of São Paulo.
Ronaldo has commented on the "responsibility of being an idol" and the legacy that a high level athlete leaves for football history. "It's exciting and it's a big responsibility, this group that will continue our legacy, the previous generations, you doing incredibly well, children are crazy about you, that's the legacy we can leave to football, said Ronaldo.
Later this month, the striker's fans will be able to check out another exclusive chat. Details of the meeting will be announced shortly.