Barcelona defeats Sporting Gijón and advances on the Spanish Championship
Barcelona grows even more on the Spanish Championship. The team defeated Sporting Gijón, this wednesay (17), by 3-1, with two goals from Messi and one from Luis Suárez. The team now prepares for their duel against Las Palmas, this Saturday (20).
First half –
During the first ten minutes of the first half, Barcelona kept the ball with them while Gijón just defended. The adversary caused danger with a counter attack, with Menéndez, but, when he got face to face with Bravo, he sent the ball out.
The first goal came out after 24 minutes, thanks to Messi, that caught the ball in the area's entrance, found a space and kicked it to score. As an answer, Cassio, took the ball to the area, risked a shot a made everything equal. Not satisfied with the ongoing result, Barcelona advanced, and when Luis Suárez received the ball inside the enemy area, he passed it to the argentine, which scored again.
The game heated up and Barcelona pressed Gijón. At 33 minutes, well marked in the area, Neymar Jr. almost made a goal, but the stopped on the post. Withou more goals, but with an agitated pace, the referee declared the end of the first half.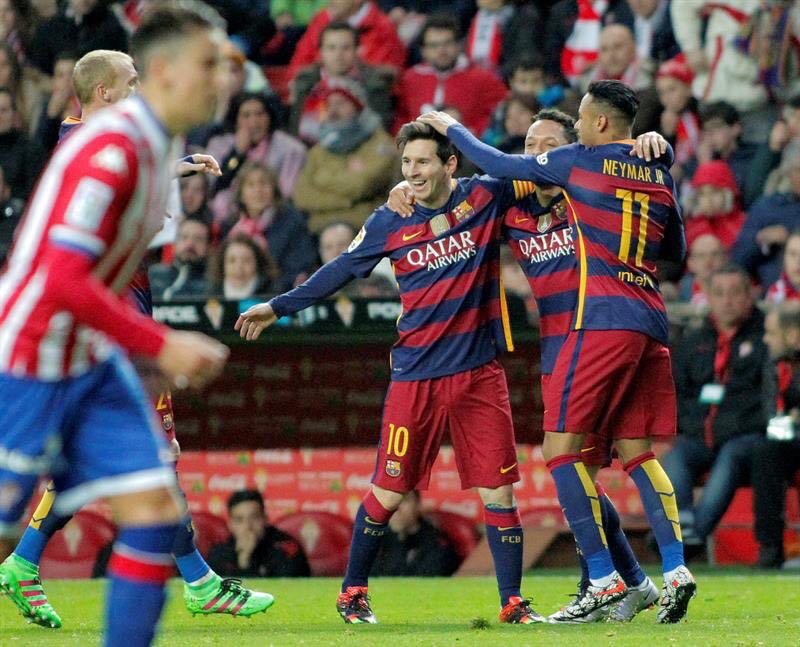 Second half –
The second half started with more difficult. The two teams didn't seem to find space to conclude the plays and that was killing the team's pace. By 15, the goalkeeper knocked Neymar Jr. down on the area. On the penalty shot, Suárez kicks, but Cuéllar makes a fine defense.
Not worried for losing the penalty shot, at 22, Aleix Vidal found Suárez on the area, made the pass and the Uruguayan scored a great goal for the team. Barcelona kept pressing Gijón and had big chances of scoring, but the fourth goal didn't seem to come easy.
During the last three extra minures, the game did not change. Barcelona kept the ball with them, but did not score again. No novelties, the referee blew the whistle and the game came to an end.