Barcelona defeats Betis and advances on the Spanish Championship
And the FC Barcelona remains in the fight for La Liga's title. The team defeated Betis by 2-0, this Saturday (30), at Villamarín, the adversary's home. The goals were scored by Rakitic and Luis Suárez. Now Barça heads for its last two rounds, the first being against Espanyol, next Sunday (8).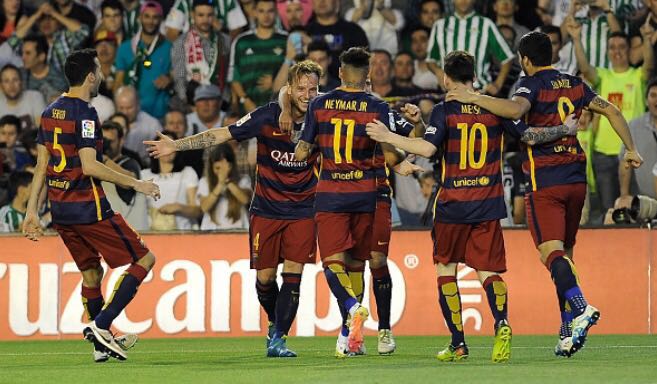 First half –
The ball did not leave Barça's feet during the first ten minutes. Barcelona pressured in the pitch and Real Betis rarely ever attacked as na answer. But the rhythm of the game wasn't good. Despite the good chances of the culé team, created by Neymar Jr. and Iniesta, the match was reaching 30 minutes without any goals.
By 29, Alba arrived at the área and left the ball to NJr. The number 11 made a rightful kick , but the goalkeeper caught it. With many occuring fouls, the game got tense, leading to the judge giving five yellow cards and a red one with only 35 minutes of game.
With Barça on Betis' danger área, but with no goals and seven cards in just 45 minutos, the first half came to an end at Benito Villamarín.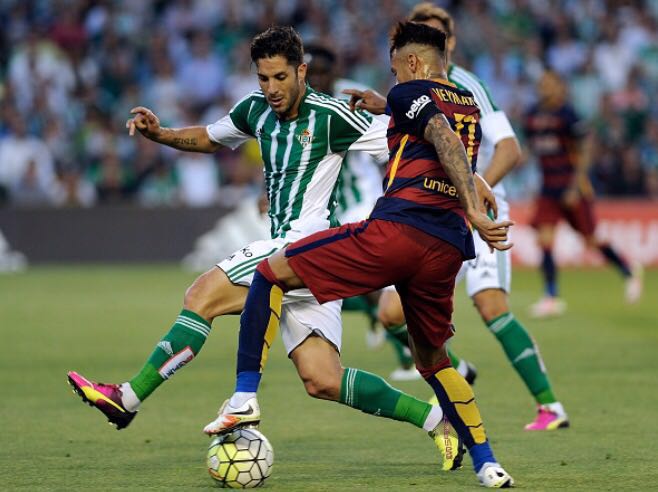 Second half –
On the second minute of the game, Neymar Jr. made a great pass to Suárez, who kicks it, but sends it out. And the culé crowd went crazy by five minutes. Messi, outside the area, raises the ball, the goalkeeper fails on trying to get it and Rakitic opens the score.
Barcelona kept the pressure Betis in their área. The andaluces tried to react, but the culé defense was more eficiente, creating a wall against the team. By 28 minutes, Suárez found Messi free in the area. He passed and the Argentine returned the ball to the Uruguayan, who kicked it but the goalkeeper caught it again.
36 minutes, Messi receives the ball close to the middle-field, sees Luis Suárez running to the area and only makes the pass for the Uruguayan to score the second goal of the match. With no more surprises, the referee whistles and the match comes to an end.
Photos: Getty Image